I'm been smoking meat for the past 30 years. Usually use an old grill converted to a smoker until they rust out. About 8 years ago bought a box smoker from Wally World and it worked, but always wanted a Weber. The box smoker bit the dust early this year and my wife's been missing me smoking meat. So for our anniversary we decided to get a Weber Smoky Mtn Smoker. Since it's just the wife and I we got the 14" one. Wish I would have gotten the bigger one, but as I learn this one, I'm finding out I can make more food than my wife & I need. Another advantage is when people "volunteer" me to cook for a party I can say I just don't have a smoker big enough LOL.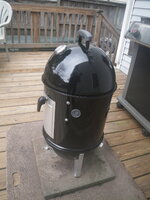 So far I've made a pork shoulder roast,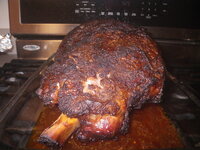 ribs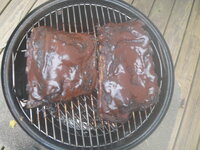 and a pork butt roast (sorry, no pix)
I've always smoked with propane, but now I get to play with fire. Advantage is I can run the smoker in the winter. It was cold and blustery yesterday and the smoker held it's temps nicely.
Next plan is some salmon. Also have some rock fish in the freezer I may add?
As I learn this new smoker, I'm figuring out little tricks to help me with. Also, the inter web's helping shortening the learning curve.