Joined

Mar 31, 2010
Messages

128
Location
After getting more and more tools I started to run out of room in the box I was using to store them and I have been drooling over tool caddies online but have been too cheap to buy one. I looking at some the other night online and came across a basic one and figured I would give Home Depot a look for some wood I wouldn't have to cut or do much to it to get it to look half way decent since I am limited on tools and my hand saw cutting skills in a straight line tend to be questionable now-a-days lol. Anyways, after searching all the molding and other milled sections of the store I came across cedar fence posts and these caps for the 4"x4" fence posts and the light came on. Here is what I came up with. All that is left to do is stain them.
This one holds 3 different styles of hackle pliers, head cement bottle, tweezers, bobbin threader, dubbing loop spinner, dubbing brush, 4 different types of scissors, barb clamps, bodkin, and whip finisher.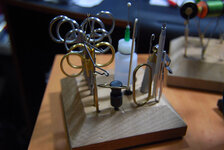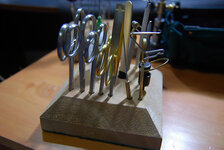 I added felt to the head cement bottle hole and to the bottom of the caddy.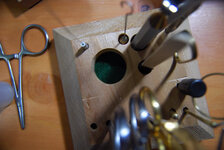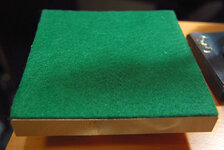 This is the other one for my bobbins. Right now it only holds 8 but there is room for a couple more if I needed them. (I ordered 2 more bobbins to fill the 2 empty holes in it now) I also added a couple of strips of magnets to hold hooks and finished jigs and hooks.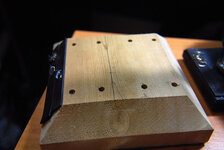 Spool storage.
I bought this desk top style spool holder at Walmart in the sewing/craft section and then headed to the hardware section and grabbed some 3M Command picture hanging strips (the ones they advertise you can just pull the strip and they just come right off) which are like velcro on steroids and mounted it to my closet door since I don't have the desk top area to give up and wanted it accessible where I tie. It holds 60 spools and it was around $10. I need to pick up another as I didn't have enough room for all my ultra wire spools.