Joined

Mar 29, 2013
Messages

919
Location
Took a little time out and went for a 1 week guided fly fishing trip to the danish island of Samsö. While I haven´t been fly fishing at all lately, Bernd from
First Cast
is a hard core fly angler, 8 hour trips casting into onshore wind etc. what ever it takes to get that herring-fed seatrout. Consequently, I also brought a kayak and some jigs to have some variety and take the edge of.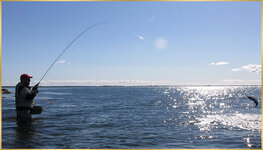 After some undersized trout and a weaver, I got that elusive +20" trout. Standing next to the guide gets you the best pics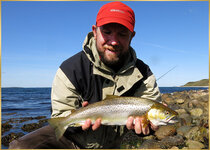 Evenings in the cottage saw intensive tying :cheers: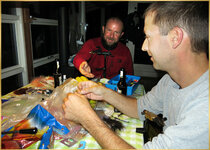 - and smoking :food: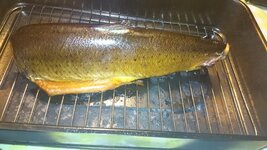 Third day was jigging time. Baltic/atlantic mackerel of this size is great sport and much sought after by fly- and light tackle anglers. This one went for a finger long 1/4 tin finn racoon boolie. Fought like a trout twice its size.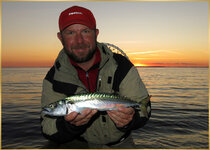 One of the guys was a very insecure, absolute beginner on the fly and brought very high-end spin tackle as back up. I borrowed it for just one cast but didn´t help him much with his self esteem issues I´m afraid...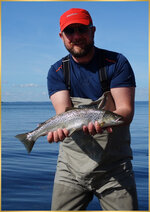 Fifth day I took my kayak for a spin. Took a little time to get accustomed with the waters there. They are pested with weavers, small aggressive bottom dwellers that are said to be the most venemous fish on the continent. Any lure that came closer than 6`to the bottom was plugged with one of these little buggers.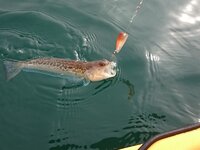 Pretty much every small lure was plugged with small fish. Even tins got me sandeels and weavers that followed the jig up for more than 60`.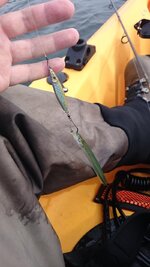 The olny large jigs I had were a 11gr sandeel slip jig that I trolled behind a jet diver. Got me a decent mackerel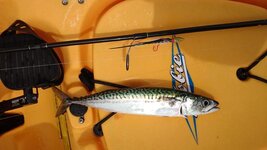 Got another, better fish on a 1oz (24gr with tin) buzz-bomb knockoff that I fitted with an insert and assist hooks.