Joined

Mar 24, 2010
Messages

3,365
Location
This year ive become a FIRM believer in tipping all jigs with big minnows. The problem is that you cant find the size I want in any of the bait shops here. Solution... Build my own tank! Im always up for another DIY project! To keep the minnows alive for a long time you need a good size tank. Im using a 150 gallon water trough that was given to me. Then you need a filtration system along with good aeration.
I wanted to be able to roll my tank around to get it out of the way if I needed to. So I picked up some heavy duty casters and built a frame out of landscape timbers and a 2x4 I had laying around.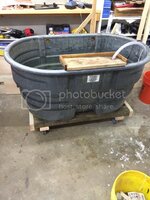 I picked up an aquarium air pump rated for 150 gallons. I hooked this to a 4 inch air stone. I was surprised at how much air this puts out. It actually bubbles so much that it causes the water to roll and circulate. Building a filtration system really helps cut down on the amount water changes you have to do. Im going to try to get by with just one water change a week. Im using a 550 GPM fountain pump to circulate the water up through the filter. Heres how I built my filter.
I took a container and drilled enough holes to keep up with the flow of water from the pump. Next I cut out circles of filter material to fit the container. THis material can be found at pet stores that sell aquariums. (OR its just AC filter material.) I put one circle in the bottom of the container. Then a layer of activated carbon. Another circle, more carbon.... I did this until I had 3 layers which filled up my container 2/3 of the way.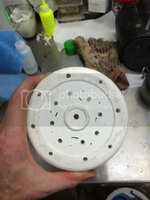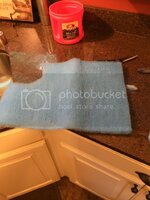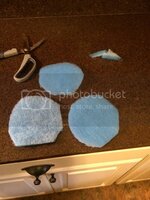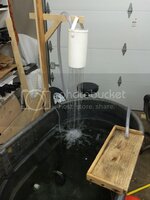 My minners arrived this morning. I got 3 kinds: Silver fatheads, Pink fatheads, and some BIG golden shiners. Theres around 900 minnows in all.