Administrator
Staff member
Joined

Mar 22, 2010
Messages

5,444
Location
Another warm winter here in Ohio with temps barely below freezing. Booked a hotel over the long New Years weekend and made the 5 hour drive North to Cadillac, MI. Fished Friday afternoon,, Saturday,, Sunday and Monday morning. They had enough ice to get out on, but not near as much as a normal year. I measured about 6"-8" everywhere I cut holes. Everyone up there seemed to be OK with it and were running sleds and 4-wheelers all over. A snow storm 2 days before I left dumped 6" of snow on everything and then a fast storm on Friday night added another 3". Coming off the lake in the storm on Friday I had to use my GPS on the Humminbird to find my truck! Turned into a white out quick. Overall, had a great time. Caught lots of fish and managed to bring home several bags of fish.
Fished Lake Mitchell, Cadillac & Missaukee, but did the bestat Missaukee on Sunday. Caught bluegill, perch, pike and walleye all out of the same holes in a small area. The hike to my spot was brutal though. Dragging my gear though 5"+ of snow made me realize quick how out of shape I am. Had a way point set from last year that was a full mile walk from the launch but only managed to make it out .75 mile from the launch. That was after taking several breaks too. Settled for a spot that looked good on Navionics and lucked into some fish. The pike measured 18" and no size limit on them in this Lake since they are over populated. The big surprise was a 22" walleye! Biggest walleye I have caught through the ice and sure was a rush.
By the looks of the forecast, I may be heading up again in a few weeks. Still no deep freeze in the extended outlook for Ohio. Oh well, gotta use my gear somewhere!
Hot lure for the weekend was a Rapala ultra light rippin rap in Clown color. Caught perch, crappie and a couple smaller walleye on it. The big walleye came on a tiny tungsten jid with a small minnow. Not bigger than a #10 hook on my bluegill rod with 4lb line so got lucky on that fight.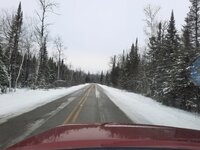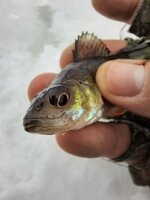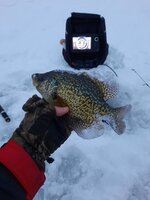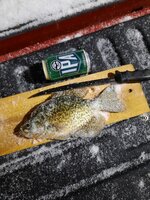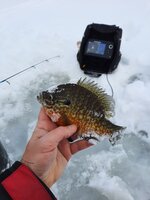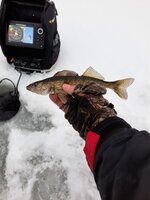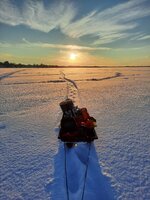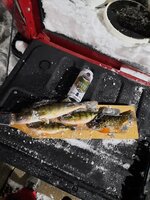 Sent from my SM-A515U using Tapatalk