Joined

Mar 31, 2010
Messages

128
Location
I finally got out today after the better part of a month not being able to get out. It was really warm today and I read on the planting reports that one of the local lakes just got planted with some trout so I was sitting here trying to do school work but I just couldn't get it off my mind, with the combo of weather and good amount of fish in the lake I couldn't focus! so I headed out and got to fishing about 4pm. I ended up with 10 fish all together 6 of which were caught on flies that I tied. These are the first fish I have caught on my own ties and on my new fly rod. I broke two barriers today, first fish on the new rod and first fish my flies!
First fish of the day. Healthy (for this area of runts) Pumpkin Seed about 5"-5 1/2" on a White Rubber Legged Dragon.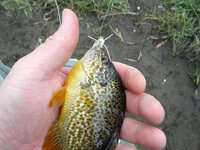 Second fish about a 4 1/2"- 5" Pumpkin Seed caught on the same White RLD.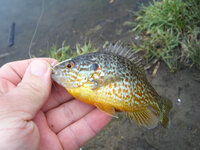 Third fish about 7"- 7 3/4" Yellow Perch and just slammed my molted soft hackle fly I tied up the other day ( I don't have a name for the fly).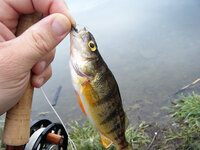 Fourth fish a dink Pumpkin Seed about 4" or so on the molted soft hackle fly.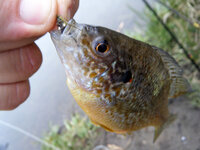 Fifth fish another Yellow Perch that was about the same size as the first one.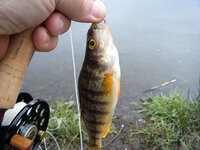 Another of the same fish but a close up of the fly in it's mouth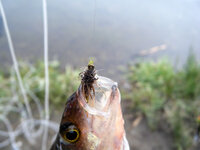 Sixth fish another dink about 4" but really colorful Pumpkin Seed caught on a Gold Ribbed Hare's Ear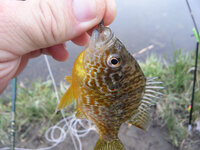 Close up of the Dink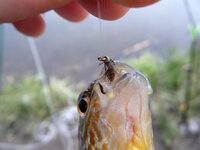 And final picture of the trout I caught on spinning gear using Power Eggs. Here are the sizes in no particular order of the picture.
10 1/4" 7oz, 11 1/2" 8oz, 16" 1 lb 8oz, and 10" 6oz I didn't limit on the trout (5 is the limit) but caught all these in a short amount of time when the wind kicked up and made the fly fishing a pain that and I didn't bring the right color of fishing glasses and the clouds rolled in making it a pain to see the fly in the water.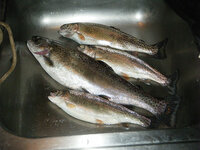 Not the best results but a good day none the less and it was great to get out and break the barrier with the fly rod!