Buddy gave me a call early in the week and wanted to float. We had many options and decided to do a float we did about 10 years ago and glad we did. So we met at the crack of dawn and started the float.
10 minutes into the float, I turtled my kayak in 6" of water. Glad my buddy did NOT get a picture of that one. High 50's to start so getting soaking wet was not in the plan. Good thing I was wearing cloths that were quick dry. Within an hour I was dry again.
Nature was alive - birds were everywhere once the sun came out. Saw Mamma guarding her flock of little ones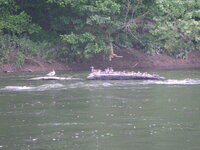 Penrod always talked about the fish pots. Fishing was slow around them, but still interesting to see them and imagine how the Indians of the past used them to fish. Some say the water made these holes, but I tend to believe Penrod and others who guide canoe float trips down this area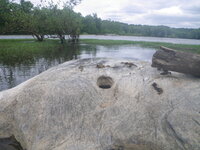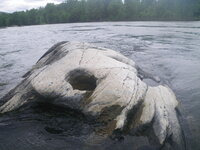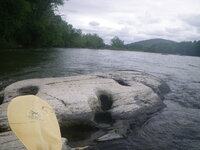 Only problem was the wind - up river which pushed the kayaks up river. Had to paddle the entire float. Good news, got a good upper body workout.
Read up on some recent reports and found out that small white swimbaits and orange was working. So rigged up a rod with a light weight jig and chalk colored grubs and had a blast with the dinks. No dink pix, but counted two dinks as one fish. The joke was they only count for 1/2 fish because they were so small. Any time we found nervous water, dinks were abundant. The other rod was rigged with a swim bait that had an orange belly. The fish liked them too.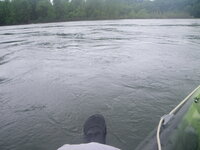 Fish were too. Find where they were and you got multiple nice sized ones