Joined

Mar 29, 2013
Messages

919
Location
Spend las week visiting Finnish friends I met back in 99 when I was on x-change. Always a good place for :cheers:  and :fishing: . Anyway, the homeland of Lauri Rapala has a living tradition of minnows that catch old, seen-it-all- lake run brown trout even when trolled at moderate speed of a rowing boat. They frantically break left and right like a distressed baitfish. Rapala has recently caught on the Kouru lip design with their scatterrap series. The large one is a zander crank, the one below has a straight vertical extreme shallow running lip.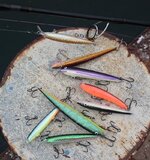 Reference:
HK Varma Taimen (Kouru - Lip)  10cm
IItin-Uistin IIti 12cm
HK Varma Zikarri (Kouru-Lip)
Merimetso K90
The larger 11cm Merimetso has a little more meat in relation to the lip so it allows for a faster retrieve up to 3kn. I have used it on seatrout, cod and zander with very good success both on kayak and motorboat. All handcrafted wire eyes can be fine-tuned to allow for higher trolling speed tolerance. All mentioned manufacturers are family owned real-deal traditionalists who have stood the test of time. Thinking about listing them in my shop, one of my finnish friends has already helped me make first contacts.The Iitin-Uistin guy is said to sell directly, the other ones only wholesale. All answer english e-mail.