Launched the kayaks this morning in the mid 30's, but the real feel was lower. Wind was moderate but still went through all the layers of clothes. We stopped about 1/2 mile down river and added some layers
Another 1/2 mile later the wind picked up good. Good news is that the wind was to our backs. Bad news is was much more than the forecasted 10 to 15. More like 30 to 40 that brought white caps on the river. This was bad because you couldn't tell the difference between a white cap and the current moving around rocks. We both wondered to our self if we should bail but neither of us said a word.
And we were so glad we didn't bail on the trip
Got to within 10' of this hawk. Pretty awesome he just looked at me and didn't move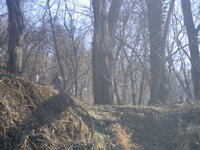 The fish were hungry despite the cold and wind ...