Been on the road the past month and busier than a one armed paperhanger with fleas.
Two days before Leon & I would start the 17 hour drive north I get the call. My Dad's not doing good. 15 minutes later the nurse calls me saying he took his last breath. Dad's in SoCA. I'm in VA. So started hitting the phones and put the whole funeral together in 24 hours. Fortunately he was miliary and already had a plot. And when I was in CA last December, I contacted the funeral home and let him know I'd need their services. I was. back mid March to finalize everything. Getting on the plane home was sad because I knew this was probably the last time I'd see Dad alive. Since he was buried in a military cemetery, it would be three weeks until the funeral. They're very busy. Dad had altheimers and was slipping fast. To be totally honest, it was a blessing when I got the news.
So decided nothing I could do and finished getting my gear and stuff together and off we drove. At that point I called it my Celebration of life trip. And man, it was a trip. Best ever in Canada.Temps were in the 40's at night and 60s to 70s during the day. Fishing started out hot and heavy and just continues for 8 solid days.
Day 1 we got bass thumb. Day 2 we got skin coming off the thumb. A gripper or boga became a must.
Scenery was epic. God's country.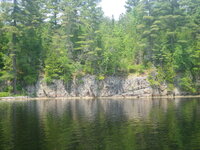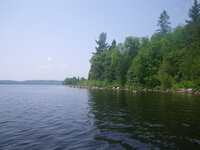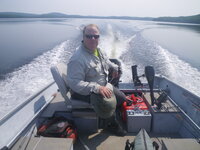 Surprisingly the bugs were tame. Well until after 2100 - but then it was time to sleep to rest for the next day
We fish these lakes for smallies, but still got some bonus fish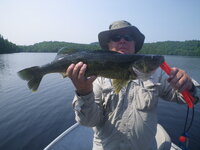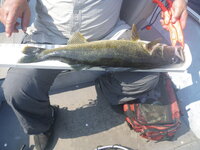 Released this one because it was outside the slot limit, but caught a few more and had appetizers and a nice dinner.