Joined

Mar 29, 2013
Messages

918
Location
Looking for new ways to adapt slow jig techneeks to my shallow home waters, I have done very well with improvised inhciku jigs for small mouthed flounder. Namely a 1oz Flutter jig with a hole in it, rigged with a bucktail flounder teaser from e-bay (=China) and a pair of #2 octopus. Tipped with a little salted lug worm and dead drifted from a boat, it produced the majority of photo-worthy flounder.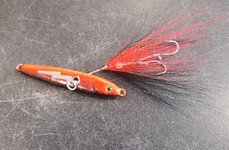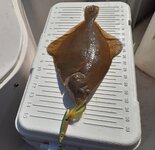 Drilling a crude hole through lead and wire does`nt exactly spell "efficiency" so when I knew what I wanted, I asked my neighour for an according "just add high temp silicone" positive mold-for-a-mold. It is hard to find 3D printing material that is heat resistant enough to withstand half a dozen of substantial lead castings. So far, we found this the ideal way to make inexpensive low scale but Hi Fi prototypes before we get into the expensive machining part which is several hundred € even among friends.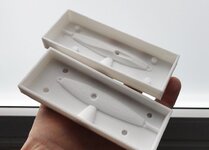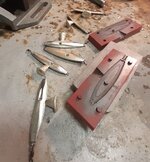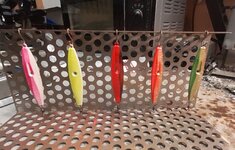 I have not fielded them yet, this is to be continued. What I can say already is that the whole slow jig way of rigging assist hooks on a slow fall center balanced metal is highly productive. I once had a fishtank and noticed that fish are picking on a sick fellow even if it is their own size, especially if there is floppy stuff dangling out of it, even a string of poop. So rigging a metal body with a teaser or just bright dressed hooks on flexible cords makes a lot of sense. I caught a 30cm dab with a 12cm hering spine in its mouth. I am 100% certain it did not chase it down but nibbled on its carcass and finally swallowed the head.