Administrator
Staff member
Joined

Mar 22, 2010
Messages

5,444
Location
We had a good cold streak that added a nice 8" to 10" of ice on my local lakes. Been doing good with panfish and will put some fish pics up on the bragging board here soon.
Unfortunately, we are on a warm spell and bringing the ice season to an end pretty soon. A panfish ice tournament popped up for this Sunday and had a friend invite me to be a partner with him. Figured what the heck, I'll be fishing anyways so might give it a shot. Up in the air if the ice will survive till Sunday though.
Anyway, the tourney is on East Harbor that is a popular protected harbor of Lake Erie. Expansive weed beds cover this 8' to 10' deep harbor. Excellent population of bluegill and pumpkinseed along with crappie and yellow perch. With the weeds the main food source is bugs so the smaller jigs usually work best.
These are 1/100 jigs with about as junky a hook as can ever be imagined. Think I got them from Jann's sold as trout heads. They are crap.... but they are the smallest I have. 2lb line and loose drag are key to landing fish. I did tie one on a 2X strong #12 cadis hook with a tungsten bead.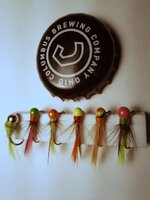 Sent from my SM-A515U using Tapatalk