Got a call to fish Labor Day with a buddy from KBF. Since thunderstorms were in the forecast early afternoon so we met at o'dark thirty
Started the float with some drizzle but stopped soon. Drizzled off and on all day. When the rain came, the fish got active. Rain stopped, fish stopped biting.
Stuck to a fluke most of the day and had some fantastic blow ups but no luck hooking the big ones. I got a nasty wind knot in the braid so switched spools. Mono. I blame the lack of hooking the big ones on the mono. That's my story and I'm sticking to it. Fish were actively hunting. Buddy hooked one and it easily cleared 3' of water. It was awesome.
Towards the end of the day went with a silicone/bucktail jig with a craw trailer and started hooking up deep. Lot's of dinks and tail biters which shows the health of the river
Buddy ended up with the biggest fish of the day
And we both had nice action on the fat averages all day long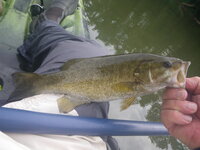 Lost an anchor in one of the rapids. Water was moving pretty good. Tried to paddle above the anchor but the current was to strong. Then when I reeled in the anchor line to about a couple feet the kayak almost turtled. Cut the line only to bang off the rock hard behind me again almost turtling the kayak. Good thing my leg was out to offset the flip. Was going to go buy & build another anchor system, but luckily had a 3# barbell and 100' of 1/4" rope in stock.
Yeah, I know the dangers of anchoring in current. NRS provides a good knife that's always within reach.
Couple of the rapids were rock beds. Fun stuff dragging a kayak through LOL
Pray for rain!