Thread Rating:
08-16-2012, 03:16 PM,
Radtexan
JigCraft Staff


Posts: 4,576
Joined: Apr 2010
Location: Lubbock, Tx
A Kansas Catfish Story !
Story posted by Outdoor BrandZ and written by Brad Kilpatrick.
MASSIVE CATFISH should break the current Kansas State Record!
"My name is Brad Kilpatrick and I am the founder and president of Kansas City Catfish. I started KC Catfish in 2007 in order to organize, promote, and run catfishing Tournaments in the Midwest. We also serve to educate interested parties on fishing, safe boating and river navigation, and responsibl
e use of our outdoor resources, including catch and release and selective harvest. You can find out more about KCC at
http://www.kccatfish.com
.
I first met Robert Stanley at the 2011 KC Catfish Pro/Am Tournament. The Pro/Am was an event designed to bring new anglers into the sport of trophy catfishing. The KC Catfish tournament anglers volunteered to take a novice catfisherman fishing for the day, showing them the ropes of fishing the river for trophy catfish. Rob was one of the amateurs that purchased a seat for the Pro/Am. He took to the group right away and even showed up and fished the very next tournament that we had. Since then Rob has been a regular fixture on the KCC Tournament Trail and for no more experience than he has, he's done very well.
It had been a pretty slow night of fishing when Rob and I set up on our fourth spot of the night and made ourselves comfortable. Before long Rob was waking me up to catch a nice little 20 lb. blue. I released the fish, rebaited and laid back down in the chaise lounge chair that Rob had in the boat. A while later, Rob was asleep and I had been drifting in and out, when I looked up at the rods and saw Rob's rod get bumped pretty hard and an instant later lay over and start screaming out drag. I yelled at Rob to wake him up and let him know he had a fish. Rob got the rod out of the holder and tried to thumb the spool to slow the fish down to no avail. I remembered from an earlier conversation Rob saying that he was using 80 lb. braid, so I instructed him to tighten up his drag. Even with the drag tightened up the fish was still taking line off the reel and made a big run out towards the channel. My rods were on the outside, so I brought all my rods in and told Rob to try and keep the fish on that side of the boat so we could land him there. At this point the fish turned and started swimming towards the boat, with Rob frantically trying to keep up, gaining back a lot of line. The fish then turned again and made another very long drag-peeling run. Soon I noticed Rob's Abu Garcia 7000ic3 started sounding funny. I looked down at his reel and saw that he was running out of line and the braid on the spool was all lumpy, bumpy and dug in. The sound I was hearing was the braid popping out of the spool. Fearful that we would lose the fish, I told Rob that we had to chase it with the boat. I reeled in Rob's other two lines and pulled the anchor, fired up the boat and went after the fish. Usually when we chase a fish like this, the fight's over in short order, but not this fish. We caught up to him soon enough and had him directly under the boat. The fight turned vertical, with Rob struggling to pull the fish up off the bottom. As Rob was fighting the fish, I kept looking downstream, keeping an eye on a wing dyke we were floating up on. I told Rob that we were running out of time and that I was going to have to move us towards the channel, if we didn't have the fish in the boat soon. Rob was still struggling with the fish when we got too close for comfort to the wing dyke and I moved the boat out towards the channel. Shortly after this we got our first glimpse of the fish. I took one swipe at it with the net and there was no way...the fish was not fitting, the net was simply too small. I tossed the net aside and grabbed a pair of Team Catfish fish grips. The fish swam around the back of the boat to the other side. Rob got the fish's head out of the water, I got a hold of his lower lip with the fish grips, and Rob helped me lift the beast into the boat. Rob asked me how big I thought it was and I told him at the last tournament I had weighed an 80 pounder and this fish was bigger. We got out a set of Berkley digital 100 lb. scales, put as much of the fish as we could, head first in the net and attempted to weigh him. The scale said, "FULL". We set the fish down, tried it again, same result. At this point we knew we had a possible Kansas state record, so we started making phone calls to get the KC Catfish tournament scales to the ramp and headed for Kaw Point. When it was all said and done, the fish was 56 3/4" long, with a 39" girth and tipped the scales at 102.8 lbs, breaking the previous Kansas state record of 94 lbs. by 8.8 lbs. While waiting for the Kansas Department of Wildlife and Parks to arrive and certify the catch, Andrew Carnes brought us a large stock tank and oxygen to keep the fish alive. After the certification process, we took the fish back out onto the Missouri River and placed her in the water. I was the last one to touch the fish as it had a hold of my hand in its mouth. After a few minutes, it let go of my hand, sank down a couple of feet, turned into the current and swam off.
Equipment used to catch the Kansas State record bluecat: Abu Garcia 7000ic3, Berkley Big Game mono leader line - 60 lb. test, Monster Rod Holders, Team Catfish Super Circle Hook 10/0, Team Catfish sinker bumper, Team Catfish fish grips, Team Catfish Dead Red blood spray."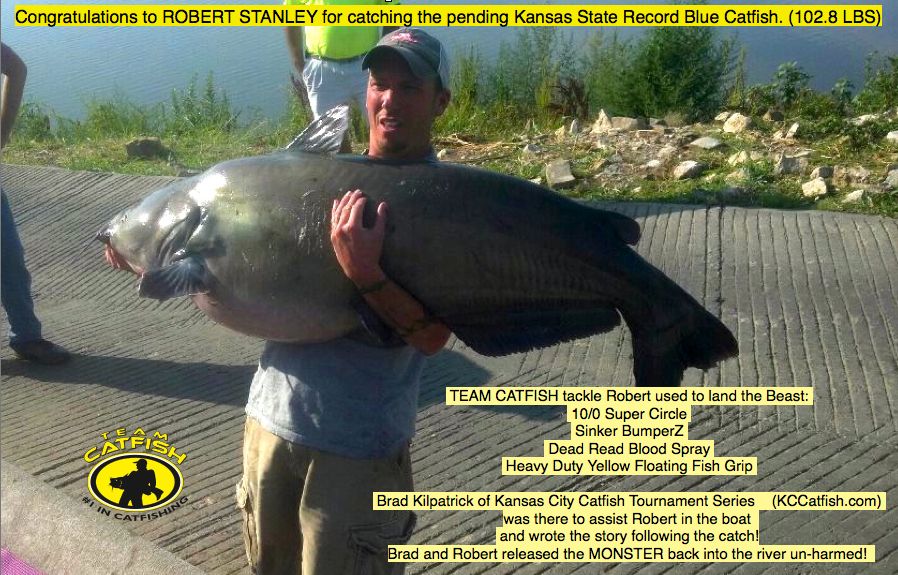 Brad Kilpatrick"
"Only death will end my love affair with Texas." Bob Bullock
08-16-2012, 03:45 PM,
CrappieHappy
JigCraft Staff


Posts: 5,275
Joined: Feb 2011
Location: Midlothian, TX
RE: A Kansas Catfish Story !
sweet!
08-16-2012, 04:25 PM,
SaltyBuckster
Senior JigCrafter


Posts: 2,687
Joined: Aug 2010
Location: Pennsylvania
RE: A Kansas Catfish Story !
I don't think that one of your ultra lights would have gotten the job done.Nice chubster right there.
I think the salt in saltwater gives fish that distictive Wonderfull flavor.
08-16-2012, 04:30 PM,
Fatman
Jiggin' Freak!


Posts: 10,502
Joined: May 2011
Location: Northfield, Vermont
RE: A Kansas Catfish Story !
That is one fat KITTY!!!!!!!!!!!!! Glad to see they put her back to put out more eggs in the years to come. Most would have had it mounted or sold it to BPS or Cabelas.

Wish it was me!!!!!!LOL
08-17-2012, 05:19 PM,
StumpHunter
Jiggin' Freak!


Posts: 5,989
Joined: May 2010
Location: Piedmont, S.C.
RE: A Kansas Catfish Story !
WOW that is a hog... thanks for posting the story.
Ronnie
Users browsing this thread: 1 Guest(s)